Well, I have done my first dealings with the giant internet shopping venue...otherwise known as Ebay.

I am not totally inept to purchasing/buying online; I've used both Amazon.com and Overstock.com before and had great experiences. In fact, I used to sell all my used textbooks from college online and make quite a profit. It was certainly more than what the book buyback place on campus would give me...that is, if they were even buying them back. That's what always made me so mad. Belmont would make you buy these $175 textbooks that came with CD-roms that you would never use and then a semester later they would say that it was outdated and that they weren't using them anymore. In other words - they wouldn't buy it back. Let me ask you, how exactly does an economics book get outdated??? Yes, I would like to know that. I can see an anatomy book getting outdated - but honestly, I don't see how that can be outdated in a semester. In four months some great scientific discovery is going to happen that makes book publishers have to rewrite the entire textbook. Or some great new economic theory is going to come about and I will won't be able to sell my text. FABULOUS!!

I'm sorry, I digress.

So, I listed my old comforter set on Ebay last week and sadly it did not sell. I included the full size comforter, 2 shams, a bed skirt, the sheet set, and the matching valance all for $50. "What a deal," you say? Well, apparently not. But I did not get discouraged! I had several people asking me if I would break up the set...and break it up I did! I listed my comforter for $35 and it has sold! It has one bid on it right now with three more days to go! While I am sure that no one else will bid on it...I wanted to give others a chance to get my fabulous comforter. How generous of me.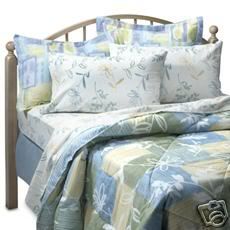 Well, that's the comforter. Isn't it nice?! Definitely worth $35.

I'm getting a Queen size bed and this one is a Full size...that's why I am getting rid of it. I have already bought my new comforter and I like it a lot. It's actually a win win situation. I get to make money off something that I am not using (the comforter) and I get to get back the storage space that it would have taken up (which would be a lot!).

So, I am sure that this really isn't interesting to anyone but me.

All in all - I must say that I love Ebay and am now an addict!